Gujarat is famous for its rich colorful cultural and ofcourse the food, mostly vegetarian. Who else remembers Kareena Kapoor's dialogue from the movie 3 Idiots, Tum Gujarati log kakhaanaitnakhatarnaakkyuhotahai? dhokla, fafda, handva, thepla,  jaise missiles hai. Well, there is more to Gujarati food than just dhokla and fafda. We gujaratis have food for every season, every festival.
With Uttarayan(also known as Makar Sankranti) approaching, Gujarat is the place to be. This festival marks harvest, the time when the sun shifts from the southern run to the northern run, or from Dakshinayana to Uttarayan. Colorful kites soaring high in sky, with the excited shouts of lapet, kai poche ,Uttarayan in Gujarat should not be missed. People fly kites all day long and gorge on mouth watering delicacies. The king of Gujarati cuisine and the reason many people await winter is "Undhiyu". Derived from the Gujarati word undhu, meaning inverted, it is a classical Gujarati dish made in an inverted clay pot. It is a special winter delicacy made from the choicest of freshly produced readily available vegetables in winter. Common ingredients include eggplant, crunchy muthiyas (fried chickpea flour dumplings), potatoes, yam, green peas, bananas and beans, slow-cooked to perfection with buttermilk, coconut and spices.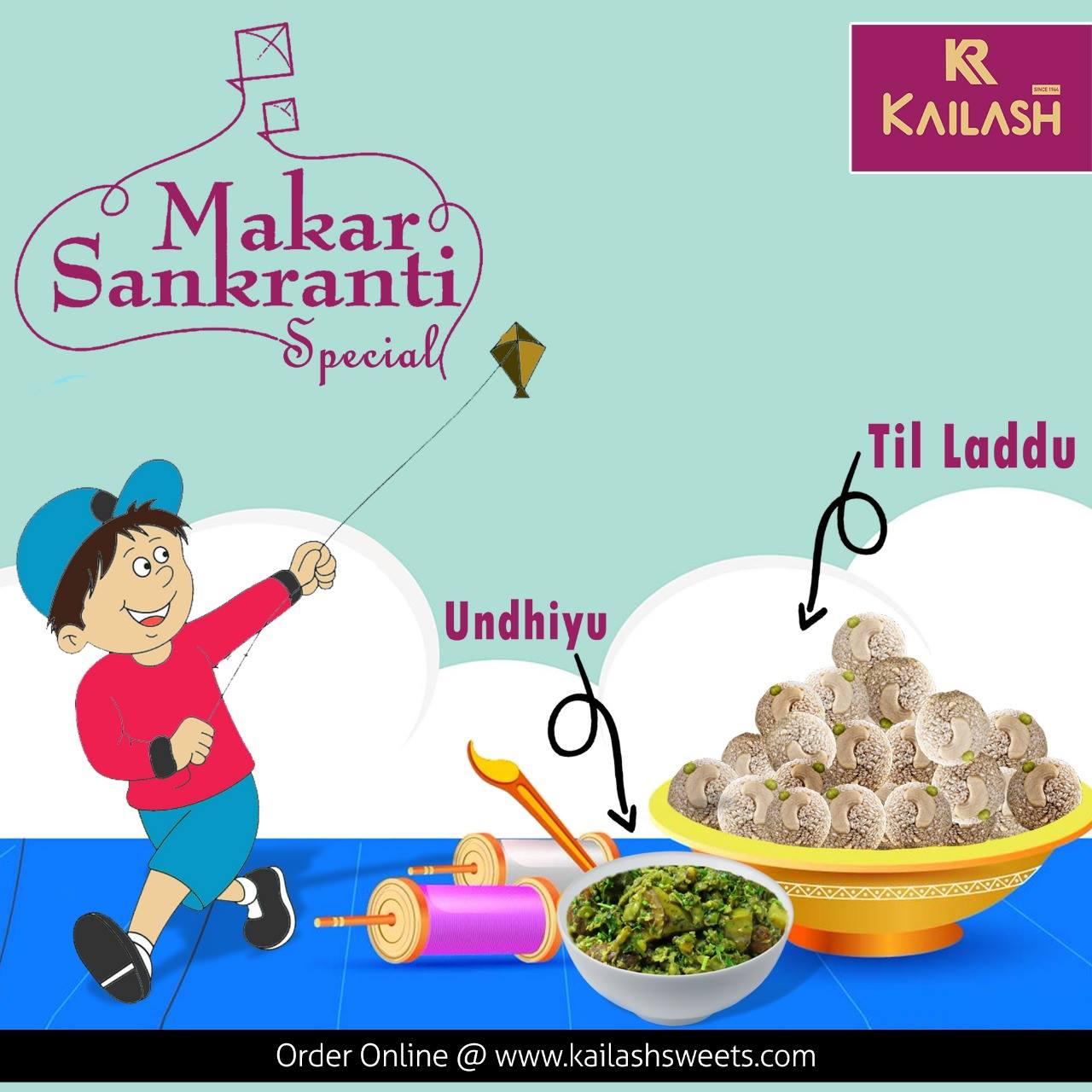 Preparing the perfect Undhiyu is an art. Using the right vegetables, the correct quantity of spices etc. The correct method is to slowly cook the Undhiyu, to infuse the right flavors in an earthen pot which is sealed and then buried upside down and then heated from above. Undhiyu is then served with green chutney, prepared from coriander, green chilies, ginger, salt, lime juice etc.
This winter, we at Kailash Sweets aim to revive the age old traditional Surti Undhiyu recipe. Yes, you heard it right. We will be serving Undhiyu this festive season. Come and explore the authentic flavors of Gujarat with us.
We hope you enjoy this festival with this delicacy.  See More….