Navratri is an auspicious festival of Gujarat. Devotees seek blessing from Goddess and play Garba at night.
People of Gujarat keep fast for 9 days and even after keeping fast they play endless Garba till midnight.
A celebration of the festival will be incomplete without sweets. In India, none festival is celebrated without sweets.
In Surat, Kailash sweets is the best shop for buying sweet. Even if you cannot go to the shop you have an option of ordering online.
So, don't think much and just simply visit Kailash Sweets Website.
Buy sweets online from Kailash sweets and you will witness the widest of beaming smiles ever!
The sweets are delivered fresh & will be packed in a box which keeps the sweets fresh during transportation.
Kaju Katli: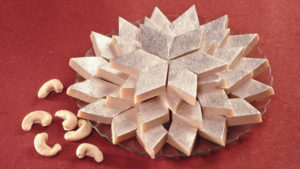 Kaju katli is the most loved sweet among everyone.
Kaju katli is the first priority sweet for people in Gujarat.
Especially in Gujarat, people love eating Kaju katli on festivals. Kaju katli is also known as Kaju barfi. It is made of Cashew and milk and other dry fruits. Kesar Kaju katli is a Kaju katli recipe which includes saffron. Kesar Kaju katli is considered to be more exotic and rich.
Anjeer Patra: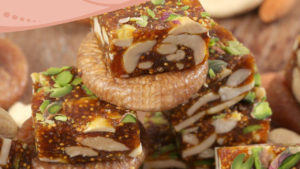 Kaju Anjeer Patra is healthy sweet made from Kaju paste with Anjeer stuffing.
Fresh Kaju (Cashew) & Anjeer (Dried Fig) gets molded into soft & creamy sweet to form into Kaju Anjeer Patra. It is filled with the goodness of Anjeer which is the healthiest dry fruits of all.
Peda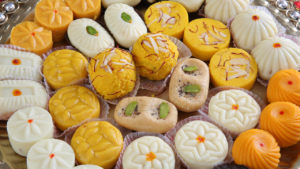 Peda is specially prepared during Lord Ganesha's festival. It is one of the most offered sweets at this festival.  Peda is made of khoya, sugar and different dry fruits.
Most Famous Pedas are Kesar (saffron) Peda and Mava Peda
Go and buy it From Kailash Sweets Now.